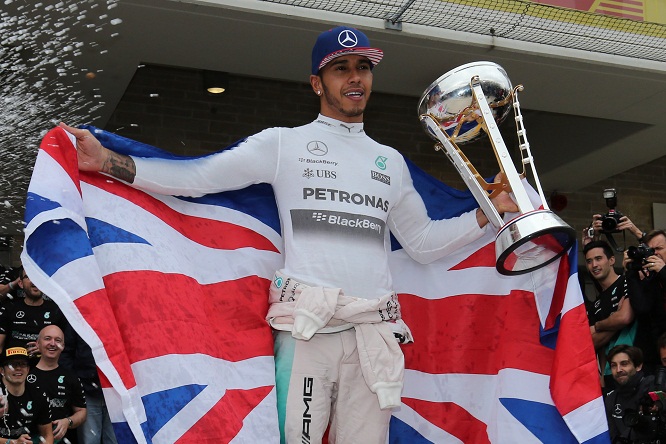 Austin, Texas, weekend characterized by Hurricane Patricia with torrential rains, high winds and cold.
What about this Formula 1 it is certainly not blessed with good luck, because even now Hurricane Patricia has moved on Mexico, where after years you will return to run just this weekend.
Saturday was a day to forget bordering on the ridiculous and that caused us a great embarrassment. Free Practice 3 still held although in extreme conditions of viable due to hurricane with danger for the drivers but also for the spectators. Qualifying postponed than 30 minutes in 30 minutes up to 3 hours later and then finally they declared that it was all at home due to hurricane. Hours of torture where the few people present were waiting in the pouring rain in the cold while the pilots and mechanics gripped by boredom and compassion for the pubblic performed in ballets and gags. Mythic vignette of mechanics of Force India who created a bob to 4 in the flood, really hilarious. But why did they not simply delete everything cause hurricane? They could take advantage of the limited presence of the public and the pilots to create an event that would draw people to the world of Formula 1. They could bring people to the paddock and offer them a dry shelter, drinking water and food and allow them to take pictures and autographs with pilots, apologizing for having to cancel qualifications cause bad weather. So at least people would not have thrown the money of the ticket and would be a nice opportunity to create human contact and why not to have a good advertising. This for us is called the lost opportunity! Qualifications at 9am on Sunday morning but also these interrupted at Q2 due bad weather . So the weekend is marred. At 14 starts the race even with rain and wet track and for a good half of the race it seemed to be at a rodeo. Mercedes under pressure, in light Red Bull's Ricciardo, overtaking, battles, brawl, in short pure entertainment and fun. Then the track started to dry,  all returned quite normal and we came back to the usual forces in the field, so Mercedes first and second and the natural order of things restored. It returns to the usual sadness. We don't repeat often enough that we like the show, fight, uncertainty and not the usual theater predetermined and we believe that the public has in fact enjoyed the first half of the race really beautiful and exciting. Our compliments to Luigino who won his third world title thus entering the club of three times world champions, hall of fame that places him next to his idol Ayrton Senna but not only, he is in good company with Lauda, Fangio etc … Embarrassing the long  face of Rosberg on the podium and the painful scene of the launch of the cap that Hamilton handed him in the back podium. Ok he lost the world title but for his fault and even sensational then can only get angry with himself and be aware of being lower. Games are closed, en plein for Mercedes, last 3 races toassign second and third place and already start thinking about the next year. Still hovers a question: there will still be the Red Bull and Toro Rosso? We have many doubts, what about you?